An 80-room Italian castle owned by the same family since the fourteenth century is set to change hands for the first time in nearly 650 years.
Castel Valer, located in the foothills of the Dolomites, was constructed over half a millennium from 1200-1700 and was acquired by the Spaur family in 1368.
The estate, which combines architecture from the Romanesque, Gothic and Baroque eras, has previously been valued at over 31 million euros (£26m).
"The home holds a lot of history for both my family and my country. I especially love the details in the Gothic Chapel and have a fondness for the Ulrich hall which was named after my ancestor," said Count Spaur zu Flavon und Valer.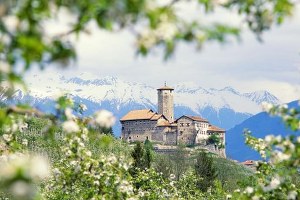 "I hope the new owners of the home will enjoy the property as much as I have, and further add to its fruitful timeline."
The period features include unique 15th and 16th century frescos and incorporate antique crown roof tiles. The castle, which is being sold fully furnished, is fitted with antique furniture pieces including glass chandeliers and Venetian mirrors.
The castle includes 35,520 square feet (3,300 square metres) of net living space, comprising 15 bedrooms, 14 bathrooms, five kitchens - including a medieval smoke kitchen - a banqueting hall, library, two chapels, an octagonal tower, wine cellar and swimming pool.
The grounds extend to 18.5 acres (7.5 hectares) and incorporate terraced gardens, orchards and forest. It also boasts three private access roads.
Built upon Roman ruins on the site of a historic Roman road, the castle retains a cloister dating back to the 16th century Council of Trent, in addition to an octagonal tower used as a WWI artillery base for German and Italian military.
Of the two chapels, the Late Gothic-style Saint Valerio, embellished by frescos by 15th Century Italian old master painters Giovanni and Battista Baschenis from the Bergamo region, has been awarded the title of Europe's Best Renovated Chapel by Christie's and Europa Nostra.
http://www.telegraph.co.uk/news/2016/08/03/italian-medieval-castle-on-sale-for-the-first-time-in-650-years/
0 responses to "Italian medieval castle on sale for the first time in 650 years "