Birmingham, Berlin and Hamburg are top of the property market as the capital is overtaken by cities such as Budapest and Istanbul
London has slipped out of the top 10 best cities in Europe for investment prospects in property for the first time since 2012 to 15th place, thanks to high prices and a crunch on yields

.
Berlin and Hamburg took the top two positions in the Emerging Trends in Real Estate report by PwC and the Urban Land Institute, while Birmingham came in sixth.
The report, which is a useful guide to where experts think the market might be heading, collated interviews with more than 500 developers, investors and property managers across Europe.
They were asked to rate each city based on investment prospects, and for their impressions on the future of the property market – both residential and commercial.
London, while still the biggest investment market for property in Europe, came in one place below Istanbul and two below Budapest, despite their volatile political situations.
Lisette van Doorn, chief executive at ULI Europe, explained that Istanbul's popularity was due to its quickly expanding population, which created enormous opportunities for investors. The report looked at intentions of investors, rather than whether actual capital was heading into that market.
The report suggested that investors are ready to call the market as prices may have finally reached their peak. Some investors suggested that yield compression in the UK capital is either at an end or likely to tail off in 2016. Most still see it as the first choice for those who want to preserve their wealth.
Gareth Lewis, the director of Real Estate at PwC, said: "London is the largest real estate market in Europe.
"Money tends to plough into it during the harder times, as people are looking for a safe bet, somewhere to keep their money, and as prices go up and yields compress, people looking for better rewards will look to secondary cities.
"And that's when you see cities like London slide out of the top 10. It's not a long-term damning of the London market by any stretch of the imagination. It's just a reflection of where we are in the cycle."
But one investor told the report: "Suddenly everybody is beginning to look to sell. The theory is that the smart Americans are taking their chips off the table and are now looking more to mainland Europe, and in particular parts of Germany and southern Europe, to deploy capital in 2016. The big test for London is how much of this stock will be mopped up."

Birmingham remained in sixth place for the second year running because companies are starting to move business there, such as HSBC, as well as HS2 and its relative cheapness in comparison to London.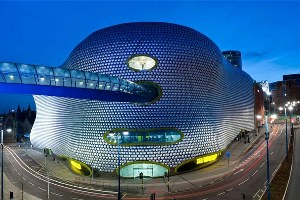 One investor said: "I think it is finally proven that Birmingham is attracting employees and employers from London. At several buildings in Birmingham which we own, the tenants have moved people there because it is cheaper."

Berlin's popularity stems from its existence as a hub for creative and tech industries, and the strong demand for office space.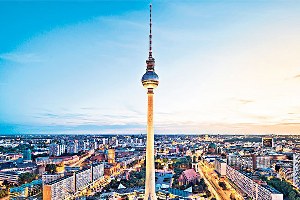 One international investor told the report: "All the creative industries are going there; it has got a multitude of different tenant types; it's dynamic; and it has got new infrastructure coming." Another said: "There is a move from the traditional main driver of take up, the public sector, to IT and tech, which is driving rents. It has a young international employee base and a lower cost of living, which is driving the city forward."
Paris, the third most active property market in Europe, came in 22nd on a list of 28 cities for investment prospects. Respondents said that it was "too expensive" and had problems of "political instability" , with another adding that they "would approach Paris with caution".
One theme that the report also highlighted was that private rented apartments and other residential investments are seen as a big area of future growth in London. Ms van Doorn said: "We see almost all types of players getting involved, if they are not already, in residential. That is not only in the UK, but across Europe.


She added: "There is an influx of international investment, such as American institutions which are coming into the market of student accommodation. They were seen as alternative assets, and some still are, but they are accepted now as being in the spotlight for the bigger institution lender.
"I think residential is becoming really mainstream as a class, all of it – including retirement living, student housing."
Another theme that the report writers picked up on was the increased importance of sustainability and the environment in property. Peter Walker, from the Urban Land Institute, said: "It's clear from the interviews that this is now just part of mainstream language of business in real estate, and it's not seen as this emerging fad anymore – it's seen as a core business theme for many."

The list of European cities with the best investment prospects

Berlin

Hamburg

Dublin

Madrid

Copenhagen

Birmingham

Lisbon

Milan

Amsterdam

Munich

Stockholm

Barcelona

Budapest

Istanbul

London

Helsinki

Warsaw

Edinburgh

Prague

Frankfurt

Brussels

Paris

Vienna

Zurich

Rome

Lyon

Athens

Moscow
The 10 most expensive cities to rent property in

Monaco

London

Bermuda

New York

Hong Kong

Tokyo

Paris

Moscow

Singapore

Geneva
http://www.telegraph.co.uk/finance/property/news/12095844/London-drops-from-list-of-top-10-best-places-to-invest-in-property-in-Europe.html
0 responses to "London rejected from the 10 best European cities for investing in property "