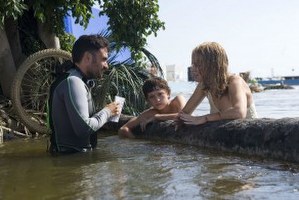 MOVIEMAKERS are reeling from news that Spain's biggest film studios are to be canned.

The

Alicante

complex where tsunami blockbuster

The Impossible

was shot has failed to sell at the asking price and is destined for liquidation.
Just one bid, rumoured in the Spanish media to have come from a Francis Ford Coppola associate, was placed in the second auction for

Ciudad de la Luz

but the offer failed to reach minimum price.
Valencia's regional PP government has poured a staggering €500 million of public money into the 'deserted' state-of-the-art studios since 2000 and will only have made €94 million back.
The complex, once described by

Ridley Scott

as 'the best facilities in the world', is a victim of geography – miles from Spain's film industry capitals of Madrid and Barcelona – and financial cuts.
The studios began to struggle after European authorities ruled that regional government subsidies were 'unfair competition'.

And after the single bid in this second auction from Cine Space N failed to reach the €47 million minimum price requirement, the studios will now be dissolved.

Olive press news

0 responses to "Spain's largest film studios where ' The impossible' was shot to be liquidated"