Guide to Malaga's Golf Courses
1. Golf Torrequebrada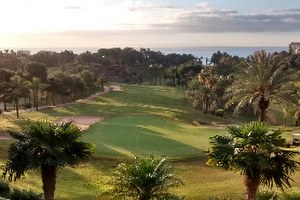 Torrequebreda golf course is one of Malaga's oldest. The course was designed way back in the 1970s by José Gancedo. Gancedo went on to design many other famous Spanish golf courses including Lerma, Monte Mayor and La Finca.
Torrequebreda golf course is not the longest at 6,400 yards. However, the course is fairly testing since the course is surrounded by steep hills, lakes, bunkers and tree-lined fairways. In fact, this course has been compared to a roller coast ride.
It's not difficult to understand why so many golfers choose to return to Torrequebreda golf course each year.
Since the course is almost forty years old, some criticise it for falling behind the times a little. It's true that the Costa's golfing scheme has moved west, with more emphasis being put on luxury golf clubs. However, Torrequebrada golf course is part of the Costa del Sol's rich golfing history and we recommend you check it out.
Key Stats
Size: 17.8 kmHoles: 18 holesCourses: 1 golf course


2. Lauro Golf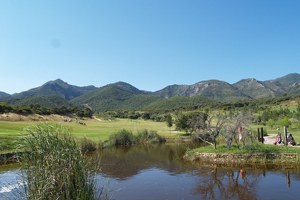 Lauro Golf is a 27 hole golf course featuring three 9-hole lopes. This course is famed for its tricky water hazard on the final hole. And if that wasn't enough, Lauro golf course is located a massive 1,000 feet above sea level and it faces the Sierra de Mijas forest region. You like to combine your golf with natural beauty, then Laura Golf really is highly recommendable.
Lauro golf course's fairways are surrounded by a variety of different trees. The course itself is flat and relatively easy to navigate.
The clubhouse is converted from an 18th-century farmhouse. We feel this adds to the courses soul and sense of uniqueness.
Lauro golf course started off life as an 18 hole course and then an additional 9 holes were added a decade after the club initially opened. The original 18 holes offer much space and variety. However, the new holes are rather cramped and repetitive.
Lauro golf course is fairly easy to complete, so it's definitely recommendable for high-handicap players. Although the course in located inland, it's still very picturesque with buckets of soul.
Key Stats
Size: 19.7 kmHoles: 27 holesCourses: 3 golf coursePrice: €40 - €62


3. Cerrado del Águila Golf & Resort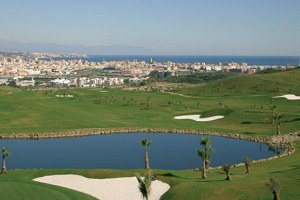 Cerrado del Águila golf course is ideal for beginners and otherwise high-handicap players. This course may not be challenging enough for the more advanced player. Cerrado del Águila golf course is very flat, and it offers medium-sized greens and wide fairways.
If you fancy yourself as an intermediate player, you may choose to start with Cerrado del Águila golf course if you are a bit rusty e.g. if you've not played golf for a long time.
Cerrado del Águila golf course is also ideal for the older golfer. Because the course is situated on smooth terrain, the course is very easy to navigate. This is particularly appreciated if you are maybe a little unfit or a senior player.
The course is also home to four lakes, a restaurant, a gym and tennis courts. And because the course is less than a decade old, the facilities are modern and clean.
Key Stats
Size: 29.6 kmHoles: 9 holesCourses: 1 golf course



4. Alhaurín Golf Resort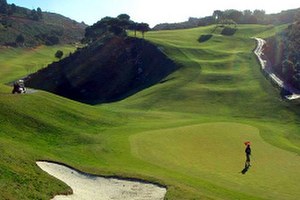 Alhaurín Golf Resort is nestled in the mountains between Coín and Mijas. Alhaurín Golf Resort arguably offers some of the most challenging golf in the Costa del Sol. The Resort sports a fantastic 18 hole golf course across challenging hilly terrain.
The course is recommended for mid to low handicap players (below 20) who are capable of navigating this course's zig-zag fairways that climb up and down hill terrain.
If you like challenges, you will surely enjoy playing at Alhaurín Golf Resort. Even if you are not an experienced golfer, you will still enjoy this course because of the beautiful views it offers.
Alhaurín Golf Resort is situated around 30 minutes from Malaga town centre, but it's definitely worth making the effort to get to. Alhaurín Golf Resort is also quite cheap. You can pay as little as €20 a day, which makes this course a top choice in terms of value for money.
If you like hilly courses, Alhaurín Golf Resort is a must!
Key Stats
Size: 27.7 kmHoles: 27 holesCourses: 2 golf coursePrice: €20 - €65


5. Mijas Golf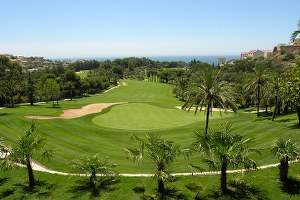 Mijas golf resort consists of two courses: Los Olivos and Los Lagos. This resort is nestled in the mountains just before the village of Mijas. This resort is located around 40KM from Malaga town centre, but it's definitely worth the journey.
The first course, Los Lagos, was first opened in 1976, so this resort is one of the oldest of its kind in the Costa del Sol. The second course, Los Olivos, was opened in 1984.
The name 'Los Olivos' reflects the fact the course's fairways are lined with olive trees. You will appreciate these trees when you navigate this course. This is because these trees give the course a very natural look and feel to it.
Los Olivos is built on flat terrain. However, the cunning placement of bunkers make this course relatively challenging for the mid- and high handicapped player.
Los Lagos saw a substantial redevelopment in 2012-13. This investment has witnessed the course return to its former glory as one of the most popular golfing destinations on the Costa del Sol. The name 'Los Lagos' refers to the fact the course is home to many lakes.
Los Lagos features far less tees than it's sister, Los Olivos. This gives Los Lagos an expansive feel to it. The fairways are generously wide and feature many water hazards.
The course spans a massive 6300m in length, making it one of the longest golf courses in the Costa del Sol.
Los Lagos hits a rare sweet spot where it is relatively beginner friendly yet it presents enough challenge to satisfy mid and low-handicapped players.
Mijas golf resort is home to an internationally famed restaurant and a spacious clubhouse.
Key Stats
Size: 28.3 kmHoles: 36 holesCourses: 2 golf coursePrice: €49.5 - €81


6. Parador de Málaga Golf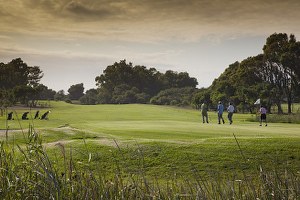 The Parador is a Government owned national chain of Spanish hotels. Parador de Málaga Golf course holds the title as Spain's first golf course. The course was opened way back in 1925. The course is immaculately maintained and it's also hosted the Spanish Open in 1992 and 1999.
Parador de Málaga Golf is home to 27 holes spread over two golf courses. This consists of the 18-hole original course made up of the 9-hole Yellow (Amarillo) and 9-hole White (Blanco) course, plus a 9 hole extension known as the 'Links' course that was added in 2004.
This additional course is better suited to high handicapped players. The original course is difficult due to high winds sweeping in from the adjacent Mediterranean Sea thanks to the course's seaside location.
Parador de Málaga Golf is home to long par 3's and par 4's. Since the course is located close to Malaga Airport, we recommend you leave this course until the day before you depart at the end of your golfing tour.
In our opinion, this course is ideally suited to the casual golfer. The resort does put more emphasis and investment into the hotel than the golf course, so the serious golfer could give this course a miss. If you are a low-handicap player, you may find Parador de Málaga Golf is too easy and bit repetitive.
We ask you to judge the Parador de Málaga Golf for its overall experience rather than just the golf. You will soak up a rich sense of history and you will get to taste the best in Spanish food if you venture off into the hotel's restaurant.
Key Stats
Size: 8.4 kmHoles: 27 holesCourses: 2 golf coursePrice: €41


7. Añoreta Golf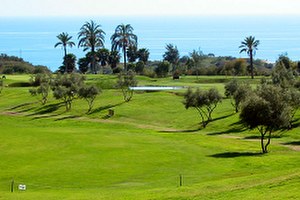 Añoreta Golf was opened in 1990 and the course is located about 18 km east of Malaga town centre. The course is nestled between the sea and surrounding mountains. The course is surrounded by trees and lakes that add to its sense of natural beauty.
The course hits that sweet spot meaning it is attractive to both low, mid and high handicapped players. This is because it has par 72 with a length of 5,800 metres.
Many of Añoreta Golf's holes offer stunning views. For instance, hole 7 sports a sublime sea view and hole 17 is nestled within a magnificent lake. If it's beauty mixed with excellent golf that you seek then we highly recommend Añoreta Golf course.
Key Stats
Size: 16.2 kmHoles: 18 holesCourses: 1 golf coursePrice: €56


8. Guadalhorce Club de Golf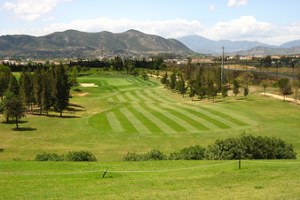 Guadalhorce Golf Resort is located close to Malaga airport in the Guadalhorce valley. This resort is one of the oldest of its type located in the Costa del Sol and it's a favourite with the locals. This is because the Resort is family friendly, offering a range of facilities such as a swimming pool, tennis courts and a sauna.
Guadalhorce Golf Resort sports 27 holes spread out over two golf courses. The courses offer a parkland golfing experience. This makes the course enjoyable for beginners and intermediate players, although advanced players are unlikely to find the course challenging. The course is also suitable for elderly golfers who wish to avoid the region's hillier alternatives. The fairways are broad and feature undulating greens.
The only negative is this resort's close proximity to Malaga airport. The noise from incoming and outgoing planes may be off-putting for some. Furthermore, the substantial size of this resort's membership means visitor tee times are only permitted between 08.30 and 12.00 Monday to Friday. Weekends are reserved exclusively for members.

We recommend you book your tee times months in advance to avoid disappointment.Key Stats
Size: 9.6 kmHoles: 27 holesCourses: 2 golf coursePrice: €21 - €60
Key Stats Summary for these Course
Key Stats
Size: 9.6 kmHoles: 27 holesCourses: 2 golf coursePrice: €21 - €60

MORE INFO CLICK BELLOW


0 responses to "The Ultimate Guide to Malaga's Golf Courses"